Today it's raining buckets, so here are some pictures from earlier in the week.
Male Falcate Orange Tip butterflies jousting for the attention of a female.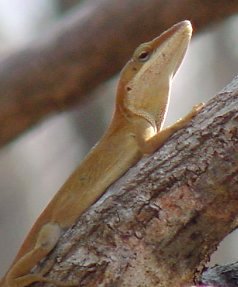 A green anole that kept a close watch on me. Like a chameleon, he can change color in the blink of an eye (from drab brown to bright green). This one was not willing to demonstrate.
Some tiny snails in the creek. I don't have a book that descibes snails but if anyone knows their name please leave a comment or email me.
These muskrats were too far away to get a good picture. I really should learn to tie up the dog if I'm going to try sneaking up on wild critters.
If you look closely you can see the very long tail of the one on the left - it's shining in the sun.