Southern Leopard Frog
(
Rana sphenocephala
)
Hiding in the grass of a sunny bank, just as the field guide specified. The guide also says that this species is hunted for frog legs - but those would be some mighty small portions. I believe that bullfrogs would be the more commonly eaten species.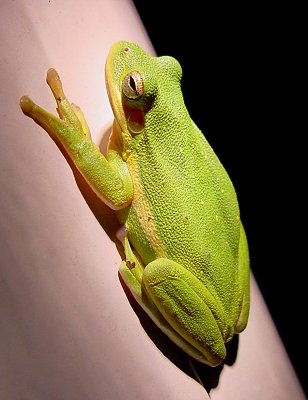 Green Treefrog
(
Hyla cinerea
)
Climbing up the back shop wall at night. I wanted to verify for myself that they walked rather than hopped. This one wasn't budging though, except to make himself into as small a lump as possible.
Don't forget to go look at the
Friday Ark
!