Ever since we named our place "Kingfisher Farm" after one of the first birds we saw here, I've been trying to get a picture of its namesake.
They are wary birds. I haven't been able to get near. So a few days ago when one was perched nearby I grabbed the camera. The only shot I had was through a screened window.
Then he ended up looking like some sort of demon bird anyway.
He swooped down to grab some spilled dog food off the workshop porch! Can't say that I've ever seen Kingfishers do that before. Then, frustratingly, he never came back within camera range.
This morning just as my husband was about to leave for work, we noticed something skulking near the pond. From the size and color I thought it might be a Little Blue Heron, but something wasn't right.
I grabbed the binoculars, and wow! A juvenile White Ibis! Talk about your cool yard birds. Quick, the camera!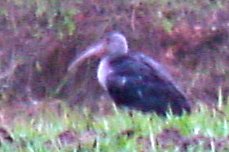 Ugh. Much too far away. Oh wait, maybe we should try digiscoping! But hubby had to leave or he was going to be late. When he took off the Ibis did too.
I set up the scope anyway, and hoped he'd come back.
He did!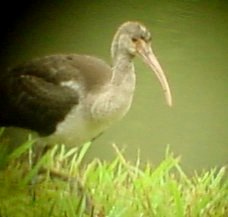 Ta-da! Not perfect, but a lot better than the camera alone. I had to take about 45 shots to get one that was half-way decent. (There is no way to attach this camera to the scope lens.)
A green heron showed up so I tried photographing him too, but he didn't stay put very long.
Still needs work.
---
White Ibis
(
Eudocimus albus
)
Green Heron
(
Butorides virescens
)
Belted Kingfisher
(
Ceryle alcyon
)
Much better picures than mine:
Juvenile White Ibis
Adult White Ibis
Ibis overhead
(wow)
Link
to site with other great bird pics and digiscoping articles.
---
Edited to add
: Make sure to read the comments for an interesting discussion on the physics of black vs. white feathers!