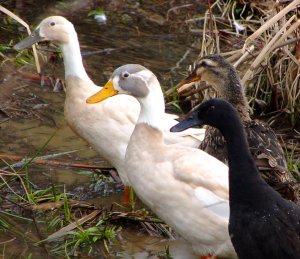 We wanted ducks because we have ponds. "Ducks would look nice on those ponds," we thought.
We bought three mallards locally and ordered ten Indian Runner ducks.
If you remember the duck from the movie "Babe", that was a Runner duck. Supposedly they stand upright from generations of being herded.
I thought they would look just like the pictures in
catalogs
, but I guess that is the idealized version. They don't stand like that all the time either - just when they are very alert or when they are running.
They are hilarious when they are young. If Indian Runner ducklings were prescribed for people who are depressed, it would save a lot of money spent on drugs. We shared a lot of laughs over these ducks last spring.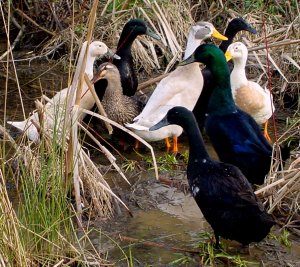 Typical duck posture
Two of the mallards were victims of us not realizing what a coyote problem we had. After a certain age we were letting them sleep wherever they wanted, when we should have been locking them up at night. We learned that the hard way.
The morning of our realization about the coyotes, the remaining mallard was so pitiful. She wandered everywhere looking for her buddies. I felt really bad and really stupid.
She got used to the Runner ducklings after a short time though. They annoyed her, but she wanted some friends.
One of the Runners was DOA, and two disappeared in mysterious incidents. We suspected the dog, especially after we spotted her with duck feathers in her mouth. She was still a puppy and may not have realized what she was doing.
So now we have a group of eight ducks, none of whom want to go anywhere near the ponds. They want to stay in the yard. They like looking at their reflections in the glass shop door. They don't want to have anything to do with us, yet can't bear to be too far away from us. They love their kiddy pool and hate the ponds.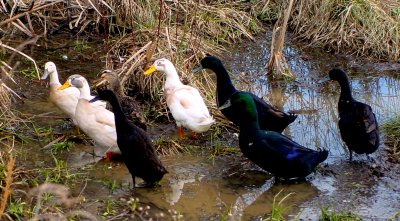 Ducks don't like being much farther apart than this.
But lately we've had glimmers of hope. The ducks have discovered that they like the ditch, and have been spending a lot of time there. Ducks are the messiest creatures on the earth, and being messy in the ditch is infinitely better than being messy on the porch.
We have been trying to coax them over to the ponds by putting corn out in the area. Someone told me that it took their ducks about a year to want to live at their pond, so there is still hope!