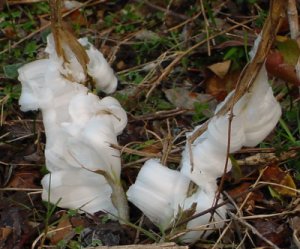 White crownbeard - Verbesina virginica
Before I knew the real name of these plants I called them Ice Plants. I'm a flower nut but mostly a springtime flower nut, so I haven't studied fall flowers very much.
They have small, somewhat coarse white flowers. There's a lot more leaf than flower to them, so sometimes they suffer from the "it's just a weed" syndrome.
It seems like half the time I ask wildflower experts the name of something, it turns out to be beneath their notice, and they'll say "I don't know, it's just a weed!"
Anyway, this plant is called White Crownbeard, frostflower, or frostweed.
Here's
a site that shows them in bloom.
The most interesting thing about these plants to me is what happens after the flowers are gone. The first time I saw it, I wondered if loose cotton had somehow blown into the edges of the yard.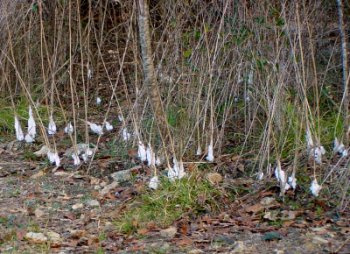 It only happens after a really hard freeze. Although the plant remnants look like dry sticks by the time it freezes, they somehow produce all this ice. One
website
I visited said that they are drawing the water from the ground.
The first time it happens is the most dramatic, and forms the most ice, but it'll happen again several more times when we go through cycles of warming up and then freezing again.
So what makes it happen with this plant, but not with others? I have no idea.
After I wrote the above, I searched a little more on Google and found
this
page that explains more about the phenomenon. (And has lots better pictures than mine!) The frost from plants he found was very thin. On the plants here it varies, but is usually thicker.