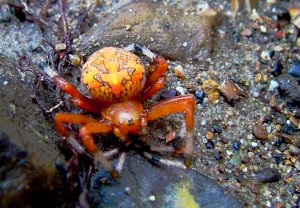 I found this spider down by the creek. Judging by the way his legs were folded (and by the way he didn't budge when I poked him with a stick), I think he had recently met his end.
I was able to look him on up on
this really cool spider site
, and found out that he is a
marbled orb weaver
(Araneus marmoreus). Not a dangerous spider at all.
A word of warning, though. Do NOT look at the pictures of brown recluse spider bites on that page unless you have a strong constitution.
I don't have a strong constitution at all, at least not about medical stuff. I confess that I have felt a little faint ever since viewing the spider bite pictures.
The only time I ever really completely fainted was at a first-aid lecture. There was a drawing of a tourniquet and a chopped off leg involved.
People are usually sympathetic about this at first, and sputter satisfyingly, and agree what a horrible thing that was to be showing to impressionable young girl scouts.
Then they always start pressing me for details about the drawing.
When they find out that, well no, the drawing wasn't really all that graphic, it was just a simple line drawing... they start snickering.
It's hard to stop them from laughing long enough to properly explain about my
very
vivid imagination.
Anyway, it's probably not a bad idea to familiarize yourself with what the
brown recluse spider
looks like. The
map
shows that they are found in Alabama, but I've never seen one.
In general I am not superstitious, although at this point I feel obliged to say "knock on wood".