I'm not sure if it's the chickens' dust bathing area or Jasmine's.
I guess they made it right by the front door so that our guests would feel welcome to use it too.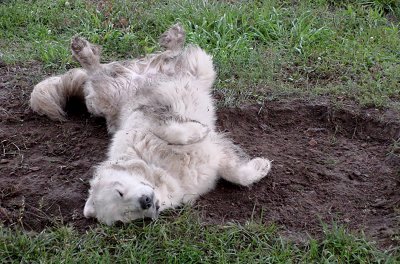 Poor little Baldy, looking half-plucked:
I wonder if she'll get sunburned before they grow back.
I'm beginning to suspect that some of my pullets are in fact cockerels.
The only one who's
supposed
to be a male is the one with no tail. (The other chicks conveniently plucked it all out for him.) But the long tail and saddle feathers on this Marans (the black and white one) and Easter Egger (the black and brown one) are making me suspect that the hatchery owes me some money back.
We were supposed to just be fostering the Rhode Island Reds. But the guy never wanted to come get them (or pay for them), so I guess they're ours. I never would have ordered them, but as it turns out I like them quite a bit. The no-tail cockerel is one of the friendliest chicks in the bunch, but I don't imagine he'll stay that way... RIR roosters are notoriously mean.