I promise I'm not going to post pictures of our new kittens every day.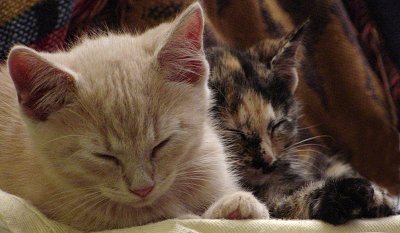 I'm starting to think that Ginger (left) is a male rather than a female. My husband thinks
Ginger
isn't a proper boy's name. "
Ginger Baker
," I keep saying, but he doesn't know who that is.
He doesn't know who anybody is.
"Tom Cruise."
"Who?"
Well it's not that bad, but almost. Celebrity
Who's Who
is not something he's spent much time studying.
"Nicole Kidman."
"Who? Never heard of her."
"She used to be married to Tom Cruise. She played the mother in that movie
The Others
, remember?
"Oh yeah."
On the other hand, I tend to remember useless trivia, such as:
Denis Lawson
played Wedge Antilles (Red Two) in the original
Star Wars
movie. According to
IMDB
(Internet Movie Database), he inspired his nephew to go into show business. His nephew is
Ewan McGregor
, who plays the young Obi-wan Kenobi in the newer series of Star Wars movies.
My husband can't remember Ewan McGregor's name though, he just calls him Obi-wan.
Sometimes we have nutso ideas for little projects. Once we decided to have a meal featuring the cuisine of whatever country the
Formula One
race was in that week. For some reason that one never got off the ground.
Another time we decided to see all the films that a certain actor or actress was in. Since we had just seen
Attack of the Clones
and
Black Hawk Down
, we decided that Ewan McGregor would be a prime target - we were already two movies up without even trying.
It's a harder thing to do than you might imagine, though. Ewan McGregor has made an awful lot of movies. I think we saw 17 of them before we gave up on that project too. (But if you ever see that
The Pillow Book
or
Killing Priscilla
will be showing on one of the movie channels, let me know.)
---
Edited to add
: All the celebrity talk reminded me of this hilarious post I read the other day:
Jennifer Aniston Is Controlling My Brain
. Actually the whole blog is great. Beautiful writing.