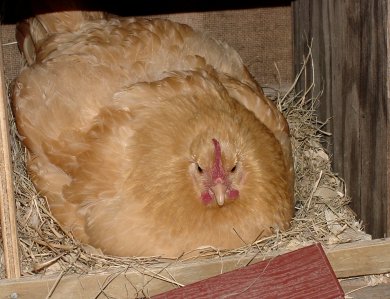 She didn't seem very dedicated at first. She kept changing her mind about which eggs she wanted to sit on.
So we put her to sitting on some golf balls for a while.
She wouldn't give up though, and finally settled down into a spot she liked.
We relented and gave her three eggs to try hatching.
Not listening to the advice of the folks on my Homestead email list, I didn't mark the eggs. Next thing I knew, she was sitting on about 10 eggs.
When she was getting up briefly to go eat or drink, other hens were sneaking in and laying eggs in her nest.
The whole
Star Trek
"go where no one has ever gone before" concept is alien to chickens. They want to lay where lots and lots of hens have lain before. I've even seen then waiting in line.
I had to candle the eggs to see which ones she'd been sitting on longest. She would have left the others anyway, once the first chicks hatched out.
Instead of using a candle, I closed myself up in a dark closet with a flashlight, but it worked - I was able to see dark blobs in the eggs that had growing chicks inside them.
I'm trying not to get too excited about the whole thing. I've heard so many things from more experienced people that make me think this little experiment won't work. (Most people said that we needed to put her in a separate space if we wanted her to hatch out chicks, but there just wasn't anything available.)
I'll let you know how it turns out.