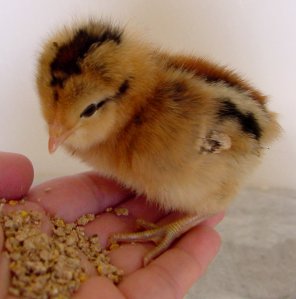 They are so tiny when they first arrive. This one is just two days old. I love the racing stripes but I'm trying to resist the temptation to name them all after Formula One drivers.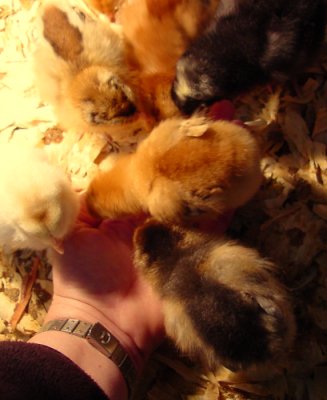 One of the most fun things in the world. To hold out your hand and have a horde of warm fuzzy little bodies crowd around to eat out of it.
A chick can't stand being left out of something important. And they're not as gentle as you might think. If one can't muscle her way in, she'll make a flying
LEAP
onto the pile of chicks in front of her. This goes for feeding time as well as nap time.
Their favorite way to sleep is all together in a little chick scrum. But they all want to be in the middle. So if one is late to the game, she'll
LEAP
into the middle of the pile. It seems hard to get much uninterrupted sleep if you're a chick.
The Marans are the shy ones in this group. They almost never leap, they just run around and around and around the outside, looking for a way in. They wait to eat until the others are finished. They sleep on the outer layer of the scrum. You want to send them to a Dale Carnegie course for a little self confidence.