One of my resolutions for 2005 is to cook more from
Cooking Light
magazine.
Earlier this month, Marsha over at
Hot Water Bath
wrote about her "rigorous aesthetic," which reminded me that I need to be more rigorous with my resolutions.
I was hungry and only took one photo. The picture didn't turn out quite as well as the meal did.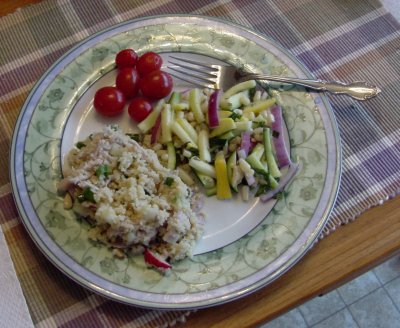 Sometimes I cook like this and sometimes my aesthetic isn't quite so rigorous. And sometimes I manage to trick my husband into cooking.
The
Chicken and Couscous Salad
is wonderful, and somehow manages to be light and filling at the same time.
The wonderful people at
Cooking Light
gave me permission to share the recipe. After clicking
here
, enter the code word "cheesecake" in the newstand buyers' section. You'll be able to read the salad recipe, as well as have access to the whole web site through the first of June.
Thanks
Cooking Light
! I love it when great products turn out to be made by nice people.
I've never made anything from
Cooking Light
that I disliked. I should probably qualify that to add "when I follow the directions".
The other salad in the picture is
Garden Salad with Citrus Vinaigrette
.