False Garlic (
Nothoscordum bivalve
)
Another "just a weed" plant that I like a lot. Some of the flowers seem to have an odor, and others do not.
Sources differ on whether
Nothoscordum bivalve
has a fragrance. Possibly some of these are
Nothoscordum gracile
?
Trailing trillium (
Trillium decumbens
)
The flat-on-the-ground trillium. In the center, lots of little tongues sticking out at you. (The focus is not as sharp as I would have liked, sorry.)
Large-flowered chickweed (
Stellaria pubera
)
Better than your average chickweed! At first glance it looks like they have ten petals, but they actually have five that are deeply notched.
Violet wood sorrell (
Oxalis violacea
)
The leaves look like shamrock - they're in the same family.
Long-spurred violet (
Viola rostrata
)
I really wonder how these are pollinated, if the nectar is way back in the spur.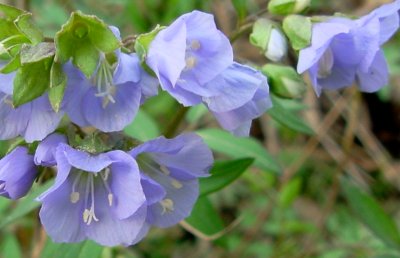 Jacob's ladder (
Polemonium reptans
)