Dogwood. In the south, a tree traditionally connected with Easter - but since Easter was so early this year, it wasn't blooming then.
You fiddlehead! Fern unfurling.
Spiderwort. I've read that the stamens are very sensitive to radiation - they turn from blue/purple to pink.
Ground Cedar. A type of club moss. I transplanted this onto our property last week. I tried to match its original environment, but chances are not good that it will live - it's notoriously picky. But since it's from a wildflower rescue (dug where a subdivision is going up), it doesn't hurt to try. If you are local and want information about the Blount County (Alabama) wildflower society, email me: blog (at) naturalimpulse (dot) com.
Fire Pink. Speckled with pollen. It's called a "pink" because of the pinked edges of the flowers (as though they were cut with pinking shears).
Wood anemone.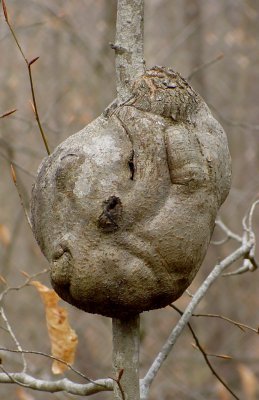 The gall! This reminds me of "The Elephant Man".
I'm in a bit of a hurry today, so will have to come back and edit later with the latin names.