What I bought at the
art show
that I said I wasn't going to attend.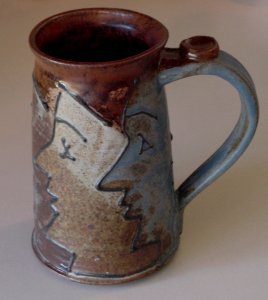 I loved all their large pieces, but this is the one that I could afford. Their website is
Studio A Pottery
but there's not much there yet.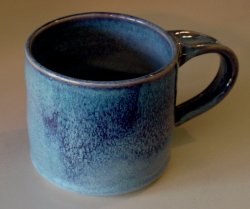 You might guess that I have a little handmade-mug collection going on.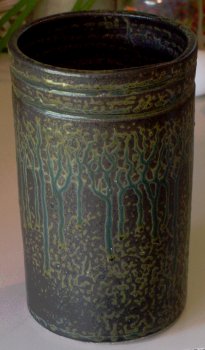 For the wooden spoons, by the same guy who made the second mug above. The most inexpensive pottery that I've seen in ages. No web site but if you fall in love with this I can send his phone number.
This print
is among the things I might have bought if we were not short on discretionary funds (and even shorter on space for more art).
And something from
Works of Man
. I love this style of jewelry. There was a beautiful necklace with a sun's rays (not on his site unfortunately) that was really speaking to me. I wanted to converse, but the artist had customers, my pockets were empty, and hubby was tired and itchy to head home.
This is a fun show to visit - it's fine art and fine craft so of course no workaday soapmakers like me (sob sob). But for
artistes
it's good show and (apparently) good dough - they come from near and far. Our pottery above is from Minnesota and North Carolina.