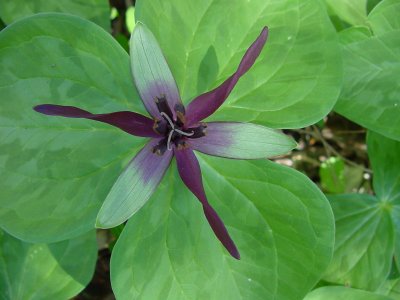 Twisted trillium (
Trillium stamineum
). The little propeller trillium! I love this one.
Trilliums are among my favorite wildflowers. At a Special Studies class on wildflowers, they told us that there are 18 types of trilliums in Alabama. They didn't name them, but I think that they are:
Trillium catesbaei (Catesby's or Bashful)
T. cuneatum (Little Sweet Betsy, toadshade, wakerobin, etc.)
T. decipiens (Chattahoochee River)
T. decumbens (Trailing)
T. erectum (Red)
T. flexipes (Bent or nodding)
T. lancifolium (Lanceleaf)
T. ludovicianum (Louisiana)
T. luteum (Yellow)
T. maculatum (Spotted)
T. pusillum (Dwarf)
T. recurvatum (Bloody butcher, Recurved sepal)
T. reliquum (Relict)
T. rugelii (Nodding or ill-scented)
T. sessile (Sessile)
T. stamineum (Twisted)
T. underwoodii (Underwood's or longbract)
T. vaseyi (Vasey's)
Many of these are found in very small numbers in Alabama, and are most easily viewed at botanical gardens.
Some older books show
cernuum
in AL, but this was split into
cernuum
and
rugelii
, with
rugelii
being the southern species.
Two of these are sometimes called "nodding", an example of confusing trillium common names. (I like dealing in latin names with trilliums.)
In most of Alabama,
Trillium cuneatum
is the common "if you just have one, this is it" trillium.
For lots more info, visit Susan Farmer's
excellent collection
of Trillium links and photos.
The
Trillium book
by the Cases is considered the "Trillium Bible" and is full of beautiful photos.
-----
Edited 17 June 2007:
I got a sneak peek at a draft copy of an Alabama vascular flora checklist, and it's slightly different than my list (that I derived mainly from my two Trillium books). T. erectum is not on it, but T. grandiflorum and T. sulcatum are. One of my new local wildflower friends knows a place where the grandiflorum grow (a few counties over) so I know that one is correct.