There is a ditch in here somewhere.
But it's clogged with trees, sediment, and years of the neighbors' trash, so when it rains heavily our driveway washes out.
The previous tenants told us that the county worked the road for them, but in our moment of need it was pronounced a private road. All my "but the water is coming from your
county
road" reasoning did not prevail.
This was the other problem. A storm had washed some debris and huge dead trees to rest against some very large culverts. It did not enter our minds that industrious beavers would see this as a gift, and make the situation even worse.
But they did, and the neighbor's property began to flood. (It was putting some of my favorite wildflowers underwater too!)
Ahh.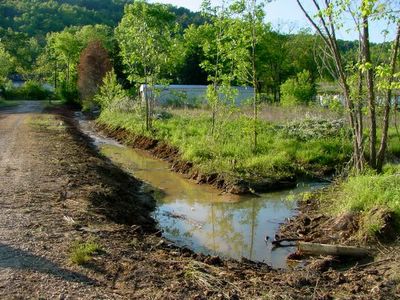 Ahhhhhh. I feel better now.
When backhoe work starts at $70 an hour, it's easy to believe that time is money.
"He's been here $140 and it seems like he's just started," I fretted.
I was gone running errands for $210.
"My husband will be home in about $175," I realized at one point.
Actually we feel lucky to have had both problems fixed in just under ten hours. It could have been a lot worse.