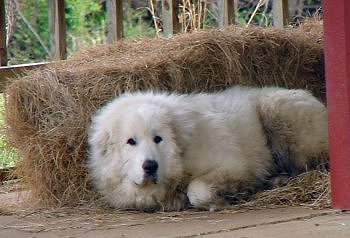 Jasmine is rarely nippy... so when we tried to check her injured foot and she objected, we took her to the vet.
Despite planning to do so, we never got around to taking her on any "going someplace fun" rides. So now she sees them all (rightfully) as "going to the vet" rides, which she was quick to figure out that she dislikes.
The vets' office was overstuffed with people worried that they'd better get something looked at before the long holiday weekend. Other than the horse and a nervous German Shepherd, none of them looked like the two-person job that getting Jasmine to the vet has become.
In a room full of cats and lap dogs, a Great Pyrenees is a celebrity. I think she knew it, too.
When it was finally our turn to muscle her onto the scale, people oohed and ahhed at her 100 pounds. A young boy was properly impressed: "Wow! What kind of dog is that?!"
I was tempted to say, "The kind that likes to run through mud and tall grass and get things stuck in her foot."
It was a long grass seed that had gotten embedded and then a little infected. She got a "take a nap" shot (that she bore quite bravely thank you). The foot was clipped and prodded and balmed, and I was able to brush some mats out of her coat while she was in no position to object.
She woke up slowly, a little scared and unsure. Then she played me like a fiddle, lying on the cool floor pretending that her back legs still wouldn't function. My "poor baby" was apparently just enjoying the air conditioning. Hmmph.