My husband had an appointment yesterday to record a testamonial for
WBHM
, Birmingham's
NPR
station.
I tagged along because, you know, blog fodder.
If you're a local public radio listener you may soon be treated to the dulcet tones that are the basso profundo of my dear husband.
He mostly talked about NPR's news shows (
Morning Edition
and
All Things Considered
), WBHM's excellent local arts and culture show
Tapestry
, and the Ivory Billed Woodpecker
Radio Expeditions
story that I
wrote about earlier
.
With luck they'll find something useful between the parts with the chair squeaking, him leaning away from the microphone, or me butting in to tell him what to say. (Sorry, dear.)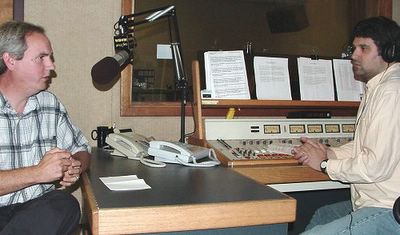 My husband (left) with Michael Krall, WBHM's Program Director. Both are infinitely more handsome than they appear in this poor photo.
For the record, I am addicted to all the shows mentioned above plus:
To the Best of Our Knowledge
This American Life
Fresh Air
It's hard to say which is my favorite - I like them all. Click the above links to listen to them on the internet, or
here
to see WBHM's program schedule. (NPR's full list of programs is
here
.)
You can
E-pledge
to WBHM right now. We always do.
Dang, I forgot to ask where
Steve Chiotakis
sits.
In the interest of full disclosure
: I have photoshopped two annoying glares out of the second picture above. Wish I could fix the harsh shadows too. I don't take many indoor shots and here you can see why. The built-in flash on my camera is somewhat lacking. Also, I tend to use "photoshop" as a verb even though I use a different editing program. And, since my husband won't sing to me, I don't really know that he's a basso profundo, but his voice
is
rather low. Finally, he may or may not actually have dulcet tones. I'm a little biased.